5 Solo Songs By BTS's V That You Need On Your K-Pop Playlist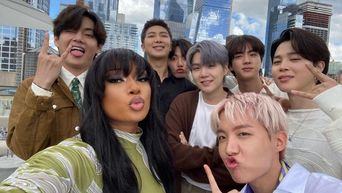 BTS's V has one of the most charismatic voices in K-Pop. His voice is deep and carries a charming vocal tone. Not only does his voice shine during his performances with BTS, but it shines in his solo music, too.
V has made a number of covers and also released many songs on his own. In each one of those songs, we can see just how much of a vocal genius V is. Not only is he incredibly handsome, but his voice takes fans to another world. 
However, some K-Pop fans might be missing out on his captivating voice. So, we've compiled a list of 5 solo songs by BTS's V that you absolutely need to have on your K-Pop playlist.
Note: This is not a ranking and the songs are in random order.
1. 'Snowflower (feat. Peakboy)' 
This is the perfect song to listen to on a winter morning as you walk through the cold weather and feel the chill on your skin. The song has a beautiful melody and V's smooth voice carries you into a winter wonderland. The switch up when Peakboy does his verse also adds a groovy element to the song. We're also living for V's heavenly falsetto notes. 
2. 'Singularity' 
You can not talk about V's vocals without mentioning 'Singularity'. The song is iconic with its slow and sexy groove. V's acting and dancing in the music video is also the cherry on top of this sweet solo song. The imagery matches the metaphorical lyrics and his husky singing. It truly is a masterpiece amongst the songs in his discography.
3. 'Winter Bear' 
This song feels like one that you should listen to whilst watching the sunrise on a road trip to somewhere far away or just as you fall asleep with the window open and the soothing sound of the wind in the background. In this song, V's voice sounds like honey. It is one of those songs that you would never get sick of listening to. 
4. 'Stigma'
'Stigma' is a song that really highlights V's vocal color. Not only does it show off his vocal range and depth, but the high note is chef's kiss. It is one of those songs that gets better each time you listen to it. The neo-soul vibe matches V so well that it proves just how versatile his voice is.
5. 'Sweet Night'
'Sweet Night' is from the OST of the hit K-Drama "Itaewon Class". This song's lyrics are so beautiful and heartfelt that they could bring you to tears the first time that you listen to it. It highlights the angelic element of V's voice and gets you feeling emotional and nostalgic with its soft melodies. 
What is your favorite song or cover by BTS's V? Let us know in the comments.